The STILL ongoing computer "glitch" was an attempt by the RBS bank to save money by sacking skilled UK staff and offshoring to fewer, cheaper, unskilled people in India.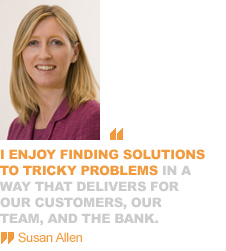 Scanning through comments on the Observer- Money- Your questions answered, I found this observation and various other comments appear to validate this information: http://www.guardian.co.uk/money/2012/jun/22/natwest-questions-answered
By  cantankerousblogger posted on 22 June 2012 7:46PM
"NatWest sacked 1,800 highly-trained UK staff, the last having left a few weeks ago.  NatWest now has virtually no staff who understand how its banking systems work in the UK or employed by it.  All the 'work' and 'testing' is now carried out by 800 'contractors' in India.  The replacements have demonstrated they do not have a clue what they are doing.
Who, out of the senior management who signed this off, who thought 'IT is not at the heart of what we do, let's outsource it', who decided 'these guys in India know what they are doing' is going to take responsibility for this fiasco?
If you're a customer, these are the two questions you need answered next week:
1. Are you going bring the design and maintenance of your IT infrastructure back to the UK and under your control?
2. Has Susan Allen, Director, Change and Business Services, responsible for 'Transformation Programme across the Retail Division encompassing all channels and functions. Establish Lean capability. Ensure services provided by Business Services (IT, Ops, Property) support delivery of the objectives of the RBS UK Retail, Wealth and Ulster businesses' resigned yet?
If the answer to either question is no, move your accounts to another bank next week.  If you can, if the systems are working again before the next IT disaster.
PS  The problem was caused by a botched 'upgrade' to the CA7 batch scheduling suite and the loss of the schedule.  There is, of course, no RBS employee left in the UK who understands this any longer."
Piqued by this post I did some more research and was staggered to find this hubris on the ignorant cost saving which is laid bare on the RBS website at:
https://www.makeitrbs.com/uk/markets-and-international-banking/about-rbs/career-paths/susan-allen
"I really enjoy the challenge and variety of my current role. Although very different to the Business Leadership roles I have undertaken over recent years, I am excited by the opportunity to use my skills to make a difference and drive change. Helping my team grow and develop, building a sustainable, successful business and finding solutions to tricky problems in a way that delivers for our customers, our team, and the bank are all things I enjoy. I believe my current role is helping to drive the cultural change required in the relationship between Business Services and Retail and has contributed to a shared ambition for the business."
I wonder- if you are still a shareholder- how much more money are you prepared to throw down the toilet?
Posted in
Building Online Businesses- news and reviews by Dynamic Solutions
,
Building Online Profits- news and reviews by Dynamic Solutions
,
Computers- news and reviews by Dynamic Solutions
,
Customer Services
,
Dyenamic Solutions
,
Online Banking
,
Online Business Development
,
Online Business Growth
,
Payment Systems
,
Technology Companies
,
Uncategorized
• Tags:
Building Online Businesses- news and reviews by Dynamic Solutions
,
Building Online Profits- news and reviews by Dynamic Solutions
,
Computers- news and reviews by Dynamic Solutions
,
Customer Services
,
Dyenamic Solutions
,
Online Banking
,
Online Business Development
,
Online Business Growth
,
Payment Systems
,
Technology Companies
•
Top Of Page
3 Responses to "Nat West computer glitch- a disaster waiting to happen"