UK's telecoms regulator Ofcom has authorised Everything Everywhere- the company which owns Orange and T-Mobile, to use its existing bandwidth to launch fourth generation (4G) mobile services- ahead of the UK's frequency auction.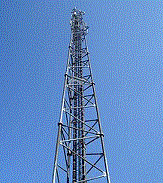 But the firm's two main competitors in the UK mobile market were less than pleased with the ruling.
They claim that they are disadvantaged as only Everything's spectrum can be reconfigured to handle 4G, while they will have to wait to buy spectrum at an auction next year.
"We are hugely disappointed with today's announcement, which will mean the majority of customers will be excluded from the first wave of digital services," said a spokesperson for O2.
Vodafone was more forthright, saying it was "shocked" at Ofcom's decision.
"The regulator has shown a careless disregard for the best interests of consumers, businesses and the wider economy through its refusal to properly regard the competitive distortion created by allowing one operator to run services before the ground has been laid for a fully competitive 4G market," a company spokesperson said.
Dyenamic Solutions thinks that the companies have a point as examples from other countries suggests that  those network providers which had a head start on their rivals were often able to build successful 4G networks.
However the ruling means that Everything Everywhere will be allowed to offer 4G services from 11 September. The operator has already been trialling 4G services at a number of local businesses in Cumbria in the north of England since the end of June.
Ofcom said delaying the mobile operator from launching 4G would be "to the detriment of consumers".
"4G will drive investment, employment and innovation and we look forward to making it available later this year, delivering superfast mobile broadband to the UK," the company said.
Everything Everywhere has also announced that it will sell some of its 4G spectrum to rival Three- which was a condition of the European Commission allowing the 2010 merger of Orange and T-Mobile in the UK.
Ofcom has issued Everything Everywhere with licences to launch what are called Long-Term Evolution (LTE) services. This is one of a number of broadband technologies that allow the transfer of high-bandwidth data such as video streaming and mapping services.
Other mobile phone networks will be allowed to bid for 4G bandwidth early next year.
The auction will offer the equivalent of three-quarters of the mobile spectrum currently in use – some 80% more than released in the 3G auction which took place in 2000.
Ofcom wants to see at least four wholesalers of 4G mobile services, so that consumers will benefit from better services at lower prices.
The auction will sell chunks of radio spectrum to support 4G, which will allow users to download data such as music and videos at much faster speeds.
Posted in
Customer Services
,
Dyenamic Solutions
,
Internet Browsing
,
Mobile Marketing Professionals
,
Smart Phones
,
Smartphone Apps
,
Technology Companies
,
Telephone Marketing Professionals
,
Uncategorized
,
Winning Technologies
• Tags:
Customer Services
,
Dyenamic Solutions
,
Internet Browsing
,
Mobile Marketing Professionals
,
Online Advertising UK
,
Smart Phones
,
Smartphone Apps
,
Technology Companies
,
Winning Technologies
•
Top Of Page