The government's broadband strategy risks leaving many communities behind by focusing on speed over reach of service a Lords committee has warned.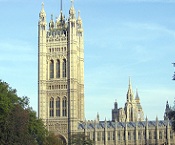 The UK could miss out if fast internet services are not treated as a key national asset, the communications committee said in a report.  Whereas the UK's priority should be to close the digital divide, it added.
The government has promised the best superfast broadband in Europe by 2015.
But the Lords committee said its strategy was misguided and there was "a very real risk that some people and businesses are being left behind, that inadequate access to the internet and all its benefits is actually afflicting their daily lives".
Peers congratulated the government for making enhanced broadband a priority but said it had proceeded from a "flawed prospectus" and become "preoccupied with the delivery of certain speeds".
The Lords report sets out a different vision for broadband in Britain – although one which is somewhat opaque.
The government aims to let the market bring superfast broadband to two thirds of the country, then fill in the gaps with a patchwork of public money.
The Lords are calling for the opposite approach – they want the government to make sure there is a robust national network of fibre-optic hubs in every community, then let local people and businesses decide how to hook up to them.
What's missing from the report, though, is any definition of how many hubs would be needed, what constitutes a community, and what it might all cost.
Without that, the government may feel relaxed about ignoring the call from the Lords to change tack.
The report calls for the creation of a network of fibre-optic hubs, which would get fast broadband to local communities and businesses when they wanted it.
Encouragingly, the Lords said broadband should be treated as a vital national asset, like roads, rail and energy.
Posted in
Broadband Businesses in the UK and around the world
,
Building Online Businesses- news and reviews by Dynamic Solutions
,
Dyenamic Solutions
,
Internet Browsing
,
Online Advertising UK
,
Online Business Development
,
Technology Companies
,
Uncategorized
,
Winning Technologies
• Tags:
Broadband Businesses in the UK and around the world
,
Building Online Businesses- news and reviews by Dynamic Solutions
,
Dyenamic Solutions
,
Internet Browsing
,
Online Advertising UK
,
Online Business Growth
,
Technology Companies
,
Winning Technologies
•
Top Of Page