The news that the Knight Capital Group has lost £283 million ($440 million) in just a few hours on Wednesday due to malfunctioning computer trading software is a non too subtle reminder that whether we like to admit it or not we are all ruled by technology- and we are all geeks now.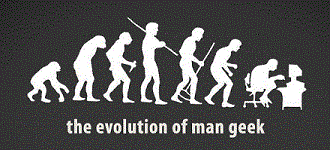 The use of IT and technology in general has been growing for several decades- some might suggest rapidly since the 70s with the birth of Windows and Macs.
In the 80s and 90s the growing use of IT was seen as a way of cutting costs and automating the manufacturing and business processes.
In part the dotcom bubble around the turn of the century was caused because the City and bankers in general woke up to the possibility that the Internet could automate yet more parts of businesses- at a very low cost.
What these bankers failed to wake up to is the dependence that businesses now depend on technology.
The cock up that RBS made of updating it's computer systems last month- and enraging over 12 million of it's customers along the way- having sacked all of their "expensive " UK staff and outsourced the job to "cheaper, less skilled" Indian staff is a reminder that we all depend on computers for our businesses to function.
To then compound the crassness of their disastrous £125 million incompetence RBS- in common with most FT100 companies do NOT have an IT person on their board of directors.
In RBS's case the folly of their ways was written for all to see on their corporate website in their profile of Susan Allen- their IT "Business Partner, Retail Wealth" who wrote "Although very different to the Business Leadership roles I have undertaken over recent years…" Nat West computer glitch- a disaster waiting to happen. To use a Dilbert expression- someone who has been promoted above their level of incompetence.
When I was studying for my MBA in the early 90s I recognised that the Internet was going to shape the world. Even though the technology modules were my weakest part of the MBA I knew that like it or not my future was in Technology.
Indeed as far back as 2004 I won a Lifetime e-business Award from the UK Goverment's Department of Trade and Industry.
Until every business realises that it is a technology company- and reshapes it's priorities accordingly, then disaster will lurk around the corner.
Wishing you a happy, restful Olympic weekend.
Posted in
Building Online Businesses- news and reviews by Dynamic Solutions
,
Business Development news and reviews by Dynamic Solutions
,
Computers- news and reviews by Dynamic Solutions
,
Customer Services
,
Dyenamic Solutions
,
Dynamic Solutions
,
Online Banking
,
Online Sales
,
Technology Companies
,
Uncategorized
,
Winning Technologies
• Tags:
Building Online Businesses- news and reviews by Dynamic Solutions
,
Business Development
,
Business Sales- news reviews by Dynamic Solutions
,
Computers- news and reviews by Dynamic Solutions
,
Customer Services
,
Dyenamic Solutions
,
Dynamic Solutions
,
Online Banking
,
Online Sales
,
Technology Companies
,
Winning Technologies
•
Top Of Page